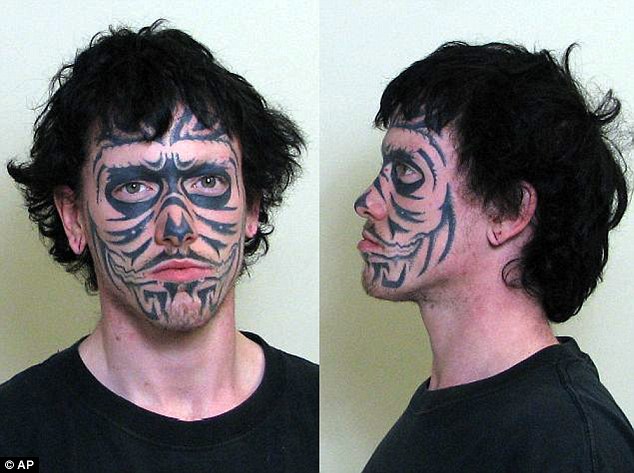 Suspect's Face Tattoo 'Just Odd,' Officer Says
Article by:
SlingerVille Staff
March 12, 2013
Suspect's Face Tattoo 'Just Odd,' Officer Says

In Godfrey, Illinois, the police are asking anyone who purchased items from a man who robbed property out of storage units to come forward, and they don't think anyone will have a hard time recalling the sellers face.

Adam Roberts was arrested late last week for robbing 28 storage units, according to AZCentral.com. The reason people won't have a problem remember the face of the robber is because he has a very distinct tattoo covering his entire face - a skeleton-style piece.

Madison County sheriff's Capt. Mike Dixon thinks that Roberts tattoo is abnormal.

"It's the oddest thing I've ever seen in 20-plus years of law enforcement," Dixon told the St. Louis Post-Dispatch. "I've seen horns on foreheads and stars on necks, but I've never seen a skull on a face.

"I can't explain it."

Thus far, authorities claim to have recovered $1,000 worth of stolen property taken from the storage units. According to AZCentral.com, they think that Roberts or an accomplice may have sold the items that are still unaccounted for. These items include a black compact refrigerator, televisions, fishing equipment, professional wrestling DVDs, paintings, an antique chest of drawers, an oval mirror and a sewing machine.

"There probably isn't another guy out there with that tattoo, so if they bought something from someone with a skull tattoo in the St. Louis area, it's probably this guy," Dixon said.
Source: azcentral.com

---
Comments
Posted By: CommitMe2Tatts
|
3/13/13 3:24 PM
You think this guy would have worn a mask... over that face before he committed a crime!
Posted By: mizceedub
|
3/14/13 11:39 PM
Is this guy for serious???? Lol wow..... just wow.....