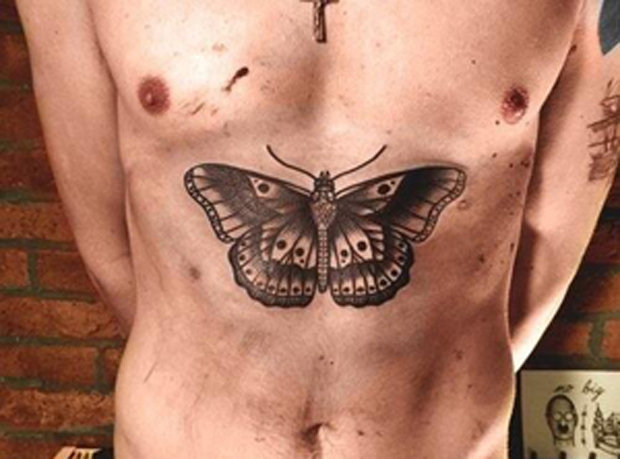 Harry Styles Gets Enormous Butterfly Tattoo on His Chest
Article by:
SlingerVille Staff
March 11, 2013
Harry Styles Gets Enormous Butterfly Tattoo on His Chest
To add to his ever-growing tattoo collection, One Direction star Harry Styles tattoos a huge butterfly on his chest.
On January 22nd, tattoo artist Liam Sparkes posted a photo of the butterfly onto Flickr and now a representative for Styles has confirmed that it is indeed the One Direction pop icons chest. According to the Daily Mail, Styles is already close to having 30 tattoos.
Harry luckily has a high pain tolerance according to Freddy Negrete – one of his tattoo artists.
"He sits really well through the tattoos. The pain doesn't bother him," said Freddy. "He gets tattoos in the most painful spots. He's got a lot on the inside of his arm, while the ribs are really painful and he's got a lot there."
What do you think of Harry's new tattoo?

Source: omg.yahoo.com and aceshowbiz.com
---
Comments
Posted By: mizceedub
|
3/11/13 4:03 PM
Wow this is awesome! I love it!!!
Posted By: tattootony7sluggs
|
3/11/13 4:15 PM
Wow, thats pretty brave a guy getting a butterfly on his midsection like that - it's not for me, but i guess if he's happy with it, thats all that matters.
Posted By: dericklutz808
|
3/11/13 4:23 PM
I see a removal in Harry's future!