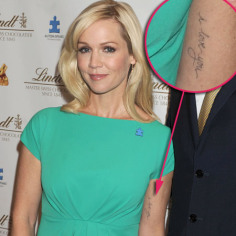 Jennie Garth Shows Off Her New Ink
Article by:
SlingerVille Staff
March 07, 2013
Jennie Garth Shows Off Her New Ink

Jennie Garth showed off her new tattoo at the Lindt Gold Bunny Celebrity Auction benefiting Autism Speaks in New York City. Inside of her left arm, the actress tattooed script that says, "I love you."

RadarOnline.com reported that since her split from her husband Peter Facinelli, Jennie has lost 30 pounds! She showed off her amazing new figure and her new tattoo in a turquoise dress.

The "I love you" tattoo is not for her new beau, Big Gigantic drummer Jeremy Salken, she dished to Health magazine that "I love you" is her favorite phrase.

"They're my favorite words, and I don't say them enough to other people, let alone to myself," Jennie said about "I love you."

"When you say them, it makes you want to be gentle and kind. Even if you're mad, there's that love."
Source: radaronline.com

---
Comments
Posted By: mizceedub
|
3/07/13 4:01 PM
Interesting... good idea, I guess. Didn't take her for a tattoo kind of gal!
Posted By: TattooTRACY4Shore
|
3/07/13 4:05 PM
Never thought i'd see the day miss 90201 whatever her characters name was, would be on the tattoo bandwagon. Must be a mid-life crisis lol just kidding it looks great!