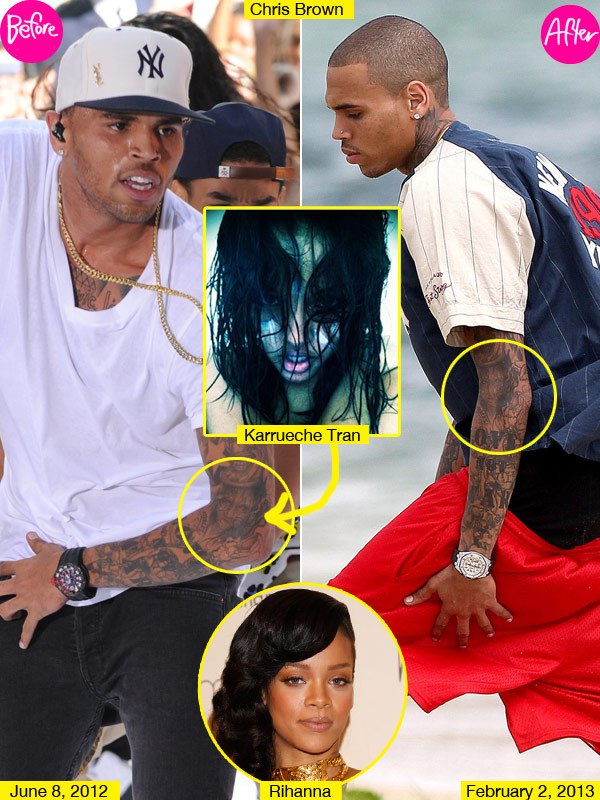 Chris Brown Gets Karrueche Tran Tattoo Removed
Article by:
SlingerVille Staff
February 28, 2013
Chris Brown Gets Karrueche Tran Tattoo Removed
Chris Brown and Rihanna have officially made up, according to The Mirror.
"She loves me, what can I say?" In the same interview Chris said, "I'm forgiven… but yes, I worked hard for it."
To prove his love for Rihanna, Chris is cutting all ties with his ex, Karrueche Tran, by removing her face from his arm.
Chris has a portrait of Karrueche Tran tattooed on his arm and Rihanna wants it gone.
"Rihanna was like, 'You can't have [Karrueche's] face on your arm if you're with me," an insider told Media Takeout. If Chris didn't do as Rihanna asked, she would have ditched the "Don't Wake Me Up" singer.
Chris is allegedly going to laser treatments to remove the tattoo.
Source: hollywoodlife.com
---
Comments
Posted By: Samsnakes56
|
2/28/13 5:20 PM
Good for him, now he can add and then remove Rihanna lol
Posted By: tattooedmami
|
3/03/13 4:52 PM
didn't he have rhianna tattooed on his neck already? man cb, you gonna be a walking mess in a minute! all these girls and break ups... lol
Posted By: mizceedub
|
3/03/13 7:04 PM
doesn't he have a rhi rhi tatt already? or am I mistaken the kuche chics tatt? I remember he had a tatt, I thought on his neck and everyone thought it was rhianna...