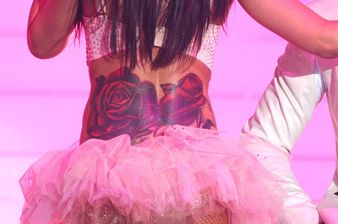 Cheryl Cole Shows Off Her Knew Back Tattoo
Article by:
SlingerVille Staff
February 22, 2013
Cheryl Cole Shows Off Her Knew Back Tattoo
At Girls Aloud's comeback show last night, Cheryl Cole shocked everyone when she displayed her large lower back tattoo!
Proudly, Cole showed off her newest tattoo addition, a cover up of an elaborate floral piece.
Along with this new tattoo, Cole also has a barbed wire tattoo on her right leg, a tail looking tattoo on her upper left thigh, a tribal design on her hand, a unknown piece on her butt cheek, script of "Mrs C" on the back of her neck, and her ever changing lower back tattoo.
Her lower back started off as a tribal with a butterfly in the center, then she added vine-like sketches around it and now it is totally covered by her new floral design.
To see the photos of all her tattoos, click here!
She said: "If it was up to me — and I could be brave for one day — I would have my whole back done.
"My friends say, 'Cheryl, please, you might regret it', but to me, it's art."
To read what Cheryl's boyfriend & Megan Fox think about her tattoos, click here!
Source: www.thesun.co.uk
---
Comments
Posted By: MIKIEPOTTS
|
2/22/13 4:55 PM
Not sure who she is but shes hot thats for sure. For a big tatt it's pretty cool for a rose design..
Posted By: slingitnow
|
2/25/13 4:35 PM
2 big roses... they look pretty good to me.
Posted By: mizceedub
|
3/03/13 7:06 PM
that's huge!!!! I wonder if it was a cover up? its nice, but big... would like to see without the frilly tutu