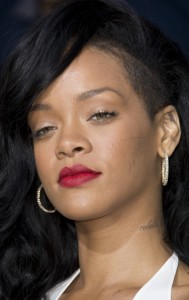 Rihanna's tattoo guy explains new falcon skin art
Article by:
SlingerVille Staff
July 13, 2012
Rihanna has swapped the music notes tattoo on her right ankle for a new symbol of strength: an ancient Egyptian falcon.
Skin art maestro Bang Bang etched the bird just above the pop star's right foot recently after she asked him to cover up a previous tattoo with an image of Egyptian queen Cleopatra.
He tells HollyScoop.com that he and his famous client discussed the idea for close to an hour before he suggested the Egyptian hieroglyphic image of the falcon – and Rihanna loved the idea.
He says, "She was very happy that night."
Rihanna tweeted the first shots of the new tattoo on Saturday as she wrapped up a weekend with family and friends before boarding a flight to Britain, where she'll spend the rest of the summer.
She wrote, "Falcon: a light that always shines in the darkness! Never close their eyes during sleep."
Bang Bang tells the website he has a long-standing relationship with Rihanna: "She came into the shop to get her nipple pierced and from there we became friends and I have done the majority of her tattoos."
---
Comments
No comments yet.