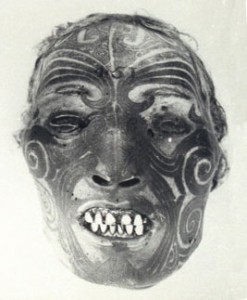 1001 Tattoo Facts: 1-20
Article by:
SlingerVille Staff
December 27, 2012
1001 Tattoo Facts: 1-20


Paul Sayce wrote one thousand and one tattooing facts that were compiled during the last four years through video- and audio-taped interviews with many of the world's leading tattoo artists and fans since 1983, when Paul started writing articles for Lionel Titchener's Tattoo Club Of Great Britain's Tattoo International monthly magazine. Other source material has been obtained from the British Tattoo History Museum in Oxford, England in his capacity as the museum's curator.

Today, we are going to share with you facts 1 through 20.

By Paul Sayce

1. Today in the lands of Aotearoa, New Zealand, many Pakeha and Maori people get tattooed using modern machines in a safe environment in regard to inks and health procedures.

2. In years gone by, the Maori elders prided themselves, as do the young Maori of today, on the fact that some of the very best wood carvers in the world have operated out of both the North and the South Islands of New Zealand. And not only were elaborate patterns and spirals carved into and onto the Maori house, weapons, war canoes and personal items, they also carved (tattooed) themselves with small chisels made from Pounamu (Greenstone) attached to wooden sticks.

3. The very first tattoo artist to appear on BBC TV was Brighton-born British tattooer George Burchett, on January 27, 1938. Radio broadcasting started as a national service in Great Britain on November 14, 1922 and the BBC television service on November 2, 1936.

4. In 1972, eight mummies (dated A.D. 1475) were found in Qllakitsoq, Greenland. Five of the six adult women and two children had blue-and-black tattoo marks on their faces, consisting of lines arched over the eyes, dots on the foreheads and lines on the cheeks and beneath the chins. Three of the adults and one of the children are thought to be the ancestors the modern day Inuit, Eskimo people and can be seen in the Greenland National Museum in Nuuk.

5. In the year of 1947, a mummified tattooed body was discovered in Mongolia.

6. The very first person to become a tattoo attraction was a man named Giolo, who went by the name of Prince Giolo. He was born on the island of Meangis (on the northeast tip of Indonesia) and was tattooed by one of his five wives. Records show that Giolo first exhibited himself in London, England in 1691, a full seventy-seven years before Captain James Cook set sail to the new world.

7. New Zealand's Roger Ingerton moved to Sydney, Australia in 1957 and tattooed by hand in pubs and in his living accommodation. He started to get tattooed by Australian tattooing legend Alex Chater as well as getting worked on by Sailor Bill on the veranda of Bill's home studio in Liverpool Street, Paddington (Sydney). Later, in Melbourne, he was tattooed by possibly one of the best Australian tattoo artists of his day, Dick Reynolds, who was known for tattooing completely freehand.

8. The people of the Micronesia Islands believed that if they were not tattooed they would not be allowed to enter the next world after death. This is what the Inuit people also believed.

9. The Inuit people would tattoo themselves in much the same way as one would darn a sock, with a thread dipped in ink and pulled through the skin like stitching. Their tattoos consisted of lines and crosses and in some cases they were tattooed completely from knee to groin, as well as on the arms and thighs.

10. In the islands of Samoa in the South Pacific there were three goddesses of tattooing, Taema and sisters Sina and Sena.

11. The word in Japanese for tattoo is irezumi, which roughly translates as "tattooing for punishment."

12. Hawaiian people used to tattoo their tongues with dots as a state of mourning, when a loved one passed away.

13. Henry J. Topping, the one-time husband of film star Lana Turner and once proud owner of the New York Yankees baseball team, had both his arms tattooed.

14. Thomas Lipton (later Sir Thomas) had a tattoo of a sailing yacht tattooed on his chest. Lipton, of course, was the famous British tea merchant.

15. During the Second World War, the King of Norway, Haakon VII, relocated to England so that he could lead his country's war effort through exile. While he was in London he was tattooed by one of the capital's finest tattooers, Tom Riley, who tattooed at 432 The Strand.

16. Tattoo Jack of Liverpool, England worked in Boaler Street in the 1940s and was believed to have been the first tattoo artist in England to use other people's designs. British tattooers of the time usually tattooed on designs that they drew themselves.

17. Hugh O'Brian, tough guy actor, star of over forty-five feature films and best loved for his role in the television series The Life and Legend of Wyatt Earp, had a skull and crossbones tattooed on the inside of his right forearm, which he got when he was in the U.S. Marine Corps.

18. In June of 1914, Irish woman Queenie Morris appeared with both legs and arms completely covered in tattoos at London's Earls Court. Her tattooist was the famed Prof. Joseph Kilbride.

19. In 1966, Huck Spaulding of Spaulding and Rogers tattoo supply company fame stated that there would be a tattoo shop on every street corner one day.

20. Wally Hammond, famed Australian tattoo artist, passed away on September seventh, 1992 in Noosa in the Sunshine State. Wally was one of the first to set up a professional tattooing shop on the Kings Cross of Sydney, New South Wales and was indeed a tattoo artist whom many other tattoo artists looked up to.
Source: http://tattooroadtrip.com/tattoo-facts-1-20/
---
Comments
No comments yet.