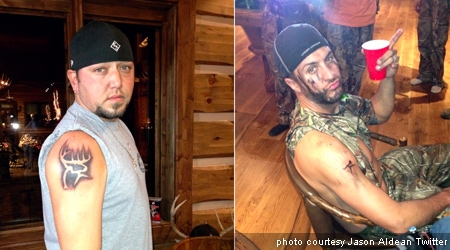 Luke Bryan and Jason Aldean: Tattoo Twins?
Article by:
SlingerVille Staff
December 24, 2012
Luke Bryan and Jason Aldean: Tattoo Twins?
Both Luke Bryan and Jason Aldean make it known that they love – and endorse – Buck Commander, a company stated by the people who bring you the popular Duck Dynasty on A&E. According to CountryWeekly.com, the two pals are now wearing their colors on their sleeves, or skin. They both have recently tattooed the Buck Commander logo on their arm.

First, Jason posted a picture of Luke getting tattooed and tweeted, "In camp with my boys from @Buck_Commander getting inked up.@LuckBryanOnline is in the hhot seat. http://say.ly/aAH4NDh"

Afterwards, Jason posted, "Here is my new one. @williebosshogg is now in the hot seat!!!!" A photo of Luke's tip-of-the-hat tattoo was posted on Buck Commander's Twitter account.
Source: http://www.countryweekly.com/news/luke-bryan-and-jason-aldean-tattoo-twins
---
Comments
No comments yet.