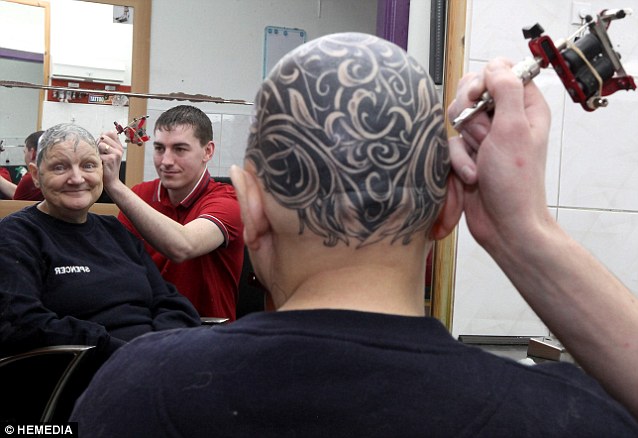 Grandmother Gets Amazing Scalp Tattoo
Article by:
SlingerVille Staff
December 14, 2012
Grandmother Gets Amazing Scalp Tattoo
Why wear a wig when you can get your head tattooed?
Ann McDonald, 60, suffers from alopecia and a thyroid disease that made all her hair fall out three years ago.
After wearing countless wigs and hats, McDonald was fed up and decided that she wanted to get an overlapping floral design tattooed on her scalp, which costs £720 ($1,159).
"I was getting more and more depressed because I didn't have any hair. I felt so ugly with a baldhead and sometimes I would just lie in bed and cry.
"I didn't want to be bald any more, I wanted something to cover my head. I've got hundreds of wigs and hats to hide it but they're no good. So I decided to get a tattoo.
"I'd been thinking about getting the tattoo for a wee while, but I got the idea to do my head when I was browsing on the Internet one day.
"I came across a picture of a woman who had a full head tattoo and I realized that's what I wanted."
She took the photos and made copies of them and took them around to several local tattoo artists, she was turned away three different times.
"I went to a few places but they didn't want to do it. One place said it might be dangerous and the others just said no and passed on it."
After being turned down, she was still determined to get the tattoo she desired. When she arrived at Pete's Tattoo Studio in Dalkeith, the owner's son, Kevan, agreed to do the piece.
After four three-hour painful sessions, the floral, spiral shading with a black background and curls to represent hair, the tattoo is complete and she is happier than ever.
She admitted that the pain was ruthless.
"I'll be honest it really, really hurt. It was very painful. But I stuck it out because I really wanted it done.
"People tell me it's nice. Some of the young ones laugh but most people love it.
"People at work think it's fantastic and take pictures of it. Ian likes it and my family like it.
"I feel so much happier - it feels so much better that wearing a wig. I'm not too fussed what people in the street think as long as I'm happy."
Her tattoo artist was delighted with the results as well.
"We've never tattooed anybody's full head before, so it was a first for us, but it went well. Ann is very happy with the result."
---
Comments
No comments yet.