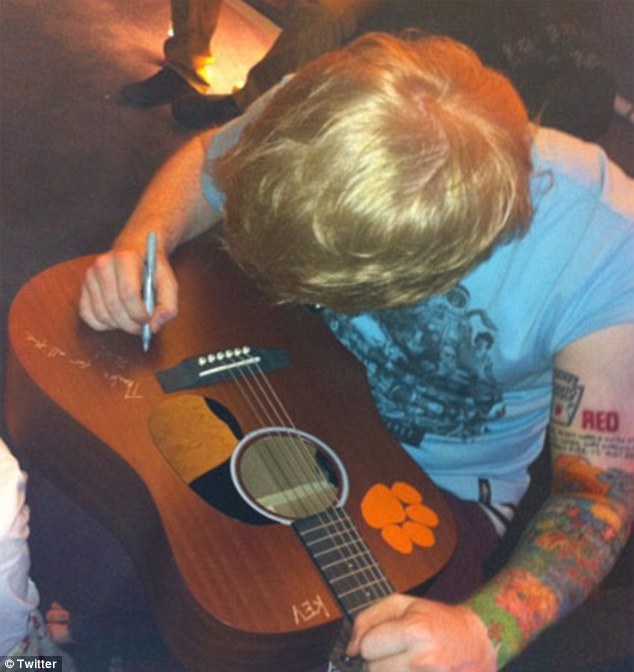 Ed Sheeran gets a tattoo inspired by Taylor Swift's album
Article by:
SlingerVille Staff
November 03, 2012
Ed Sheeran gets a tattoo inspired by Taylor Swift's album
Ed Sheeran loves his tattoos, and his most recent one is a tribute to Taylor Swift's new album.
Rumors have been created about Taylor and Ed that they are more than friends and more than song writing partners and this tattoo just adds frosting to the cake.
Ed flaunted his new work that was inspired by the title and logo of Taylor's new album, Red, which he helped collaborate with her.
The picture of the tattoo was posted by Ed on Instagram and in the photo you can see his existing tattoos and then his new tattoo right above them on his upper arm.
The two work together and Taylor discussed her fondness of Ed in an interview with Daily Mail's You magazine.
"Ed Sheeran and I wrote a duet called 'Everything Has Changed' while sitting on a trampoline in my back yard. It's a lot easier than you think.
"We had one guitar, which we passed back and forth, and then we baked an apple pie, or rather my friends and I baked it and Ed watched and then ate it afterwards.
"His performance at the Olympic closing ceremony was incredible – I really think that was his big breakthrough moment in the US."
The two post pics together via Instagram and Ed even tweeted a congrats to Taylor for her new album.
He wrote: 'Congrats to @taylorswift13 for selling 1.2 million albums in a week, orrrrsssuuummmm .'
The two are scheduled to tour together next year as Ed has been asked to play on her tour around the U.S.
He announced the news on Twitter: 'Happy to announce that I am special guest on @taylorswift13's tour of North America next year... gonna be bonks.'
Source: http://www.dailymail.co.uk/tvshowbiz/article-2225816/Ed-Sheeran-gets-tattoo-inspired-Taylor-Swifts-album-rumours-swirl-theyre-just-writing-partners.html#ixzz2B0LWKAQX
Follow us: @MailOnline on Twitter | DailyMail on Facebook
---
Comments
No comments yet.