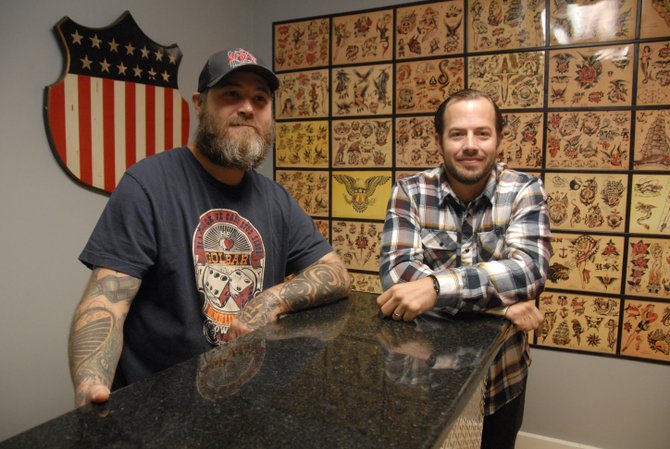 'More Mainstream': Tattoo Shop Makes Imprint on Downtown SP
Article by:
SlingerVille Staff
November 01, 2012
'More Mainstream': Tattoo Shop Makes Imprint on Downtown SP
When Craig Morrison was searching for the right location to open up Valhalla Tattoo and Gallery, he stumbled upon the perfect place in downtown Southern Pines. The only issue was that the business he was starting was not was not particularly welcomed by Broad Street landlords.
"There was some resistance," said Morrison, a combat controller for the U.S. Air Force who is retiring in January.
Though there was a difference of opinion, Craig has no hard feelings because he feels the 2,700 square feet of space is a perfect match to develop the business.
"We don't want people to be nervous or intimidated, so this old house with its inviting entrance is great," he said. "We're not a typical tattoo shop. We're going to focus on custom tattooing. So, this location will probably turn out to be way better in the long run."
When people walk into Valhalla Tattoo & Gallery, Morrison hopes for them to feel comfortable. When you walk in, the lobby contains Victorian furniture and an organ made in 1910.
"This place is almost 100 years old, and we want people to feel that vibe," he said.
On October 23rd, Morrison opened Valhalla Tattoo after months of market research and also taking into consideration locations in Sanford and Spring Lake.
"Southern Pines is such an awesome town," he said. "Tattooing is an art form, so we want to add to the local arts community. We also want to get in touch with artists here to get some of their work hanging in the gallery."
Currently, the only art hung in the shop walls the work of Morrison and Matt Green, who recently closed his tattoo shop in Spring Lake.
"I came to North Carolina from the Gulf Coast four days after Hurricane Katrina," said Green, an Army veteran who has been a tattoo artist for almost two decades. "I'd never tattooed on the East Coast or near an Army base. There's a lot of patriotic goodness here.
"When you're in East L.A., you're not exactly tattooing the best of America."
Historically, tattoos have been linked with culture and originate from ancient art to modern expressionism. Today, tattoos are more accepted and fewer people view of them as representing deviant behavior.
"It's more mainstream now," Morrison said. "Tattooing is a multi-billion-dollar industry."
Green, who served as an apprentice in Biloxi, Miss., said the tattoo industry has come a long way in a short time.
"Today, I work with each customer from start to finish on the design they want," he said. "It's not like it was when I started out on the beach doing Tasmanian Devils and Yosemite Sams."
Their shop is named after a tattoo - "Valhalla" – that was on Andy Harvell, a fellow combat controller who was killed in action overseas.
"He was always wanting me to get into tattooing," Morrison said, "so it was just really fitting."
"We want to give people tattoos that they're proud to wear," Green said. "We're not looking to be a street shop. We want it to be an inviting place. We want people to come in and meet us."
Morrison agreed, saying, "We don't want to create a negative vibe."
Valhalla has the opportunity for more than just two artists and also may offer custom signs and body piercing in the future.
"I need a change of pace," Morrison said. "This is a great opportunity to do business in a great town with a lot of great people."
Source: http://www.thepilot.com/news/2012/oct/31/more-mainstream-new-tattoo-shop-finds-home-in/
---
Comments
No comments yet.