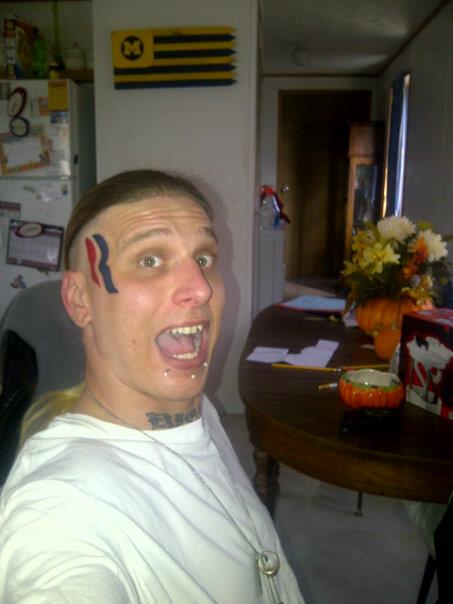 Man gets Romney tattoo on his face for $15k
Article by:
SlingerVille Staff
October 30, 2012
Man gets Romney tattoo on his face for $15k
Indiana man, Eric Hartsburg, put his face up for auction on Ebay a few months back, according to ABC News, and what follows is a permanent decision that he may regret down the road.
After bidding a grand total of $15,000, an anonymous Republican won the Ebay auction for Hartsburg to tattoo the Romney logo on his face, a location that is nearly impossible to hide.
Hartsburg told ABC that he originally did the whole thing as a gag, but that he thinks the tattoo provides a "purpose".
"I am a registered Republican and a Romney supporter," Hartsburg said.
"I didn't mind getting this tattoo because it is something that I could live with and it's something that I believe in."
"In the beginning it was done for gags and publicity," he said, "but now I see it as a way to encourage young people to vote. We have so many rights that we don't utilize, and young people need to exercise that right."
You would think that one tattoo on the face is plenty, but not for Hartsburg; he is now privately auctioning off his forehead and he will get just about anything that isn't racist, offensive or pro-Obama.
"No, no, I would definitely not get an Obama tattoo," he said.
Source: http://dailycaller.com/2012/10/26/some-dude-gets-romney-tattoo-on-his-face-for-15k-photo/#ixzz2AhtNot2s
---
Comments
Posted By: SamWheat
|
4/13/11 1:37 PM
My husband had an emotional affair with an old classmate he connected with, on FB after 25yrs. Lied for over a year cause he was in denial.Has realized his mistake now and regretting every minute that he spent opening his heart to this psycho.

The ugly bitch will pay for robbing me of the time and affection I deserved from my husband for being faithful and devoted for 22 yrs. He is already paying for his mistake. Good luck slut. you should start standing around street corners with a sign around your neck that says, " Desperate, will do anything to secure my future with your wealthy, successful man and won't leave my husband till my son leaves for college ,then I am set ." http://cheaterville.com/?page=cheaters&id=26 89 http://cheaterville.com/?page=cheaters&id=2869